Use FullScript to order professional-grade supplements!
All supplements recommended through my protocols, podcast, YouTube and other channels can be searched for and found on my online dispensary, FullScript.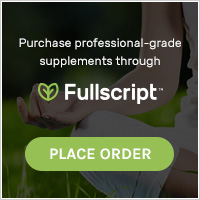 Have questions about a supplement I discussed on a podcast, video or other? Email me at info@megangump.com.
---
MOLD
Many symptoms and diseases can be linked to mycotoxin exposure including headaches, joint pain, vertigo, diarrhea, word recall issues, memory loss, chronic fatigue, fever, pneumonia-like symptoms, heart disease, rheumatic disease, asthma, sinus issues, cancer, vision loss, skin rashes, depression, ADHD, anxiety, liver damage and more!
Order ImmunoLytics mold plates here to test your home, work, car, any environment!
Bio Balance Now: enter "MeganGump" (exactly as shown) for 10% off your orders!
---
WATER
I use and recommend the Berkey water filter for home, apartment, etc. use.
If you don't have much room at home or the budget to get the Berkey filter, I recommend the Clearlyfiltered water pitcher. It's like a Brita water pitcher but 1000x better.
COOKBOOKS
Crockpot and Instant Pot cookbooks are my absolute go-to's. They make picking recipes and meal prepping for the week super easy!
The Complete Paleo Slow Cooker by Karen Frazier
Paleo Cooking with Your Instant Pot by Jennifer Robins
The Big Book of Paleo Slow Cooking by Natalie Perry
Against All Grain by Danielle Walker
BOOKS
Epi-Paleo RX by Jack Kruse – The Prescription for Disease Reversal and Optimal Health
Taking Charge of Your Fertility by Toni Weschler – A guide to natural birth control, pregnancy achievement, and reproductive health
Why Stomach Acid Is Good For You by Jonathan Wright – Natural Relief from Heartburn, Indigestion, Reflux, and GERD
A Simple Guide to the Paleo Autoimmune Protocol by Eileen Laird
Your Body's Many Cries For Water by F. Batmanghelidj, M.D.
Food Favorites
Otto's Cassava Flour – Make your own tortillas, biscuits and more!
Vital Proteins Collagen Peptides – Incorporate into your coffee, tea, smoothies and recipes for added protein.
Vital Proteins Collagen Whey Protein Powder – Pre/Post workout or addition to your smoothie snack protein powder.
Skincare and Makeup
Countermatch Pure Calm Cleansing Milk by Beautycounter – My night time cleanser/makeup remover. Massage on dry face and neck, rinse with warm water. Removes impurities and makeup!
Charcoal Cleansing Bar by Beautycounter – My daily cleansing product, the charcoal bar lives in my shower. Removes makeup and charcoal detoxifies the skin.
Nourishing Cream Exfoliator by Beautycounter – I incorporate the exfoliator into my routine 2-3 times per week in the shower. After I wash my face with the charcoal cleansing bar, I use the exfoliator as my second cleanser to uncover fresh, smooth skin.
Color Intense Lipstick by Beautycounter – My absolute favorite lipstick! Stays on and easy to remove, also infused with peppermint oil to really make you love it.
Flawless in Five by Beautycounter – Everything you need to throw out your current toxic makeup for a safer set!
Personal Care Items
Deodorant by Primally Pure – This is my all-time favorite deodorant!
Household Cleaners
Products
Ello Glass Water Bottle  Syndicate BPA-Free with Flip Lid, 20 oz.
Kids
Books:
From Mac and Cheese to Veggies Please by Jennifer Scribner, NTP
Disclaimer: I am a participant in the Amazon Services LLC Associates Program, an affiliate advertising program. That means when you click these links through to Amazon, as a "thank you", Amazon pays me a small percentage. It helps support me as I support you!
Also, part of my business is a non-toxic, safer skincare company called Beautycounter. I am on a mission to educate men, women, and kids about the toxic chemicals in everyday skin and beauty care products, to teach the world to know better and make safer decisions for them and their families. If you are interested in non-toxic skincare and beauty products – I am your go-to girl! Please reach out to me and we can discuss your interest and information about switching to safer ingredients! Link to my personal Beautycounter website is Beautycounter.com/megangump